Towing safety should always be front of mind, whether hauling the family camper, a small utility trailer, or an expensive race or show car.
As a racing hauler driver or crew member, you're fully aware of the hazards on the roadways just getting to the track. Congested traffic, construction zones, blown tires, and distracted drivers are an everyday reality. That's why towing safety depends on selecting the correct tow vehicle and trailer, and making sure it's mechanically sound and fitted with the proper towing accessories.
The tow vehicle and trailer should be viewed as a package, designed to work
together. If you want a 28′ enclosed trailer, be aware that you'll need, at
minimum, a heavy-duty ¾-ton, or better yet, a 1-ton truck to pull it. If a lightweight open trailer will suffice, a ½-ton
pickup may do the job if it's outfitted with heavy-duty rear springs, a weight
equalizing hitch and sway control.
Trying to pull too much trailer with a vehicle is one of the most common mistakes made when it comes to towing safety. Regardless of the truck selected, do not exceed the GVW (Gross Vehicle Weight). These specifications are set by the manufacturer and include the weights of cargo, passengers and the tongue weight. It's equally important to never exceed the tow vehicle's GCWR (Gross Combination Weight Rating), which is the combined maximum weight of the tow vehicle, trailer with cargo, and passengers.
To determine the maximum GTW (Gross Trailer Weight) rating, subtract the GVW from the GCVW. Both ratings can be found on a tag inside the driver's door:
Example Tow Vehicle: 
2001 GMC HD 2500 4-Wheel-Drive Extended Cab with a GVW of 9,200 lbs.
GCWR (Gross Combined Weight Rating): 22,000 lbs.
GTW (Gross Trailer Weight): 12,800 lbs. (22,000 – 9,200 = 12,800) 
Tech Information Courtesy of Reese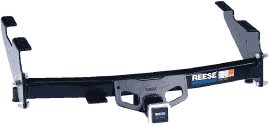 Trucks pulling a conventional tag trailer should be fitted with a Class III, IV, or V frame-mounted receiver with the specific class determined by gross trailer weight. A wide variety of receivers are available from companies like Reese and Curt Manufacturing, and many are a direct bolt-on. It's important to know the gross weight and tongue weight of the trailer prior to purchasing a receiver and hitch. One of the most common safety issues with trailer towing is that many people simply don't know the tongue or trailer weight of what they are towing.
Two types of trailer hitches are compatible with frame-mounted receivers: weight
carrying and weight distributing. Weight carrying hitches employ a simple ball
mount, while weight distributing units include a hitch bar, adjustable ball
mount, spring bars and snap-up brackets. Although weight distributing units are
a bit more costly than a standard ball mount, they greatly reduce tongue
weight, distributing it between the tow vehicle and trailer axles, improving
handling.
Regardless of hitch type, don't overlook the hitch pin and retaining clip, which secure the draw bar. The draw bar is subject to stress and if it or the hardware holding it shears off, the results can be dramatic.
Proper truck-to-trailer wiring is important as well. Reese's T-One wiring connector is a vehicle-specific connector that plugs directly into the OEM wiring harness to provide connections for brake, turn, and running lights.
Relatively inexpensive and easy to install, a sway control unit can be added to weight carrying or weight distributing hitches to improve handling and eliminate trailer sway. A sway control unit is the most common towing safety item missing from larger towing rigs. Most weight distributing hitches include a provision for a sway control, while a weight carrying hitch may require a special ball mount that includes a sway control tab.
Fifth-wheel or gooseneck-style trailers require a mount in the truck bed. Typically used with trailers that are longer than 32′, fifth-wheel or gooseneck hitches
eliminate sway, improve handling, and reduce the turning radius.
Safety chains and a breakaway switch are required by law in most states, and are critical towing safety items. The chains should be of sufficient load capacity and crossed underneath the hitch so if the trailer breaks free, the tongue will be caught by the chains and not fall onto the road. The breakaway switch will automatically apply the trailer brakes if the trailer breaks free from the tow vehicle.
An electronic brake controller should be mounted in the tow vehicle within the
driver's reach. The controller varies the braking capability of the trailer and
can be adjusted so trailer brakes can be applied aggressively without
locking-up. A brake control wiring harness, offered by Reese, is available for
a wide variety of late model vehicles.
Keep in mind that race teams notoriously overload their rigs, not realizing that all
that weight has to be brought to a safe stop, often with only a split-second
notice. Following these towing safety tips can go a long way toward preventing an otherwise avoidable accident.