The future of motorsports depends on getting today's youth involved and passionate about racing.
If you follow racing, you've certainly got to be concerned about the future of motorsports. The gray-haired contingent of racers seems to be growing and it seems like there's a lack of new blood coming in, regardless of whether it's circle track, road racing, off-road, or drag racing.
All is not lost, however, as the vast majority of the sanctioning bodies have taken notice and continue to initiate programs to help generate increased youth involvement in motorsports. Many local circle tracks are seeing steady growth in go-kart, mini sprint, and quarter midget racing, while the NHRA and IHRA are successfully bringing youth into drag racing through their junior dragster program.  
There are also a substantial number of youngsters that help protect the future of motorsports through family, such as second-generation racer Rodney Kaekel. Son of NHRA Stock Eliminator drag racer Jim Kaekel, Rodney has literally grown up at the track. He's been a fixture at the Kaekel's pit area since he was just a few weeks old, and as he grew older, he began helping out, checking tire pressures and keeping the batteries charged on his dad's '70 Olds 4-4-2, while patiently waiting for his shot at the ¼-mile racing surface.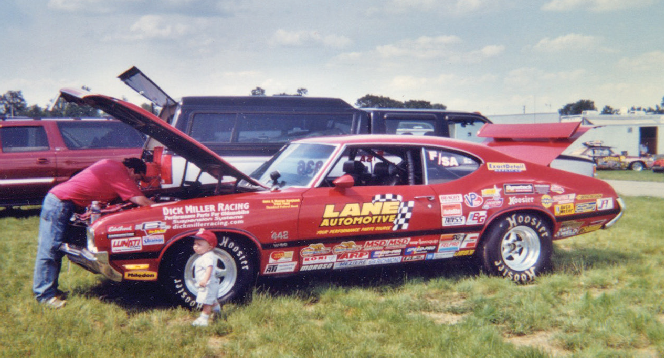 Fast forward to the present day and Rodney, currently a sophomore in high school, is now entering the sport as a driver. He made his first runs this past summer, racing a daily-driven 2006 Chevy Impala, first in local "test and tune" events followed by his first full-fledged bracket races. In just his second event, the US-131 Motorsports Park "Funny Car Nationals" in Martin (Mich.), Rodney made it to the fourth round before bowing out.
The youngster's been not only learning on the track but in the pits as well, taking an interest in the many factors that affect a car's performance, such as understanding the value of a racing-specific weather station and how air temperature, humidity, barometric pressure, and wind speed affect a race car's on-track performance.
While he plans to continue to bracket race the daily driver, an ex-Stock Eliminator '68 Camaro was purchased as a "roller" just over 1-1/2 years ago from fellow racer Bob Schmalz. The car featured a clean, virtually rust-free body, six-point roll bar and although it was in need of an engine, drivetrain and some "T.L.C.", it was quickly identified as a great father-son project with the goal of bringing it back to its former glory.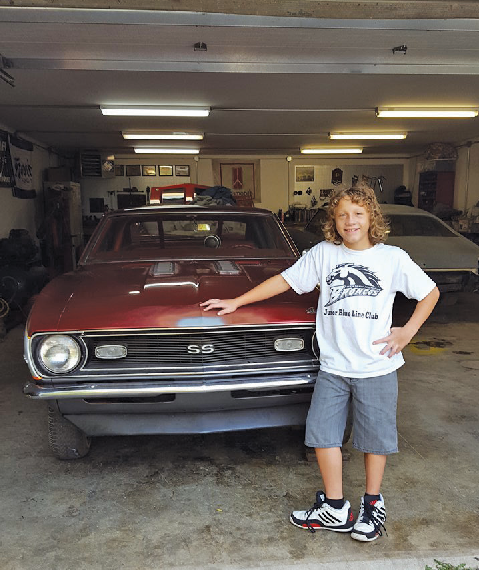 Shortly after acquiring the car, Rodney jumped right in with dad's supervision, scrubbing the underneath of the classic Chevy until it was free of grease, grime, rust-proofing and years of rubber built-up. The pair then replaced all of the brake lines and hoses before turning to the fuel system, where an Aeromotive A1000 fuel pump and regulator were plumbed using Aeroquip Startlite hose. 
A 12-bolt Chevy differential was acquired and although it had spent a bit of time outdoors in Michigan's winter wonderland, Rodney jumped right in, sandblasted the rusted housing and ground off all of the weld slag prior to it being thoroughly cleaned and fit with new leaf spring perches. The rear was then assembled using a U.S. Gear ring and pinion set, Moser spool, axles, and 5/8" drive studs. Rear end installation will be complemented with Calvert Racing split mono-leaf springs, Cal-Tracs traction bars, and AFCO shocks. 
The father and son duo followed by removing much of the car's interior to ease re-wiring using an Auto Rod Controls ignition panel, Auto Meter tachometer, and a QuickCar Racing gauge panel and battery cable kit with master disconnect switch. A Hurst Quarter Stick shifter was installed and will be used to shift the TH-350 transmission.
Jim, a transmission mechanic by trade prior to his employment with Motor State, prepped the three-speed automatic for the Camaro using a Turbo Action manual/automatic valve body and a full complement of lightweight internals. A custom built, 8-3/4" dia. ATI torque converter will be used to transfer power from the big Chevy to the drivetrain. 
While they originally planned to piece together an NHRA Stock class engine for the project, a trip to the 2017 NHRA U.S. Nationals paid dividends as the father-son duo wound up acquiring a complete, NHRA-legal and blueprinted 396 cu. in./325 HP Chevy from a fellow competitor.  While the engine must retain the stock 2.070" intake and 1.725" exhaust valves, stock .398" valve lift, and stock replacement pistons, it's currently being freshened and updated with Harland Sharp rocker arms, PSI beehive-style valve springs, dry film-coated bearings and a low-tension ring package.  An MSD Digital-6 Plus ignition control, distributor, and plug wires will handle the ignition, while the exhaust gases will exit via a set of Performance Welding adjustable "step" headers.
When completed, the car should travel the 1/4 mile in the high ten-second range at just over 120 MPH, pretty stout for a Quadrajet-fed, stock iron-headed 396 Camaro shod with 9" slicks that weighs in at the NHRA-required minimum weight of 3420 lbs. (with driver).  With project completion planned for next year, there is certain to be rivalry between the father and son for the quickest E.T. slip as ironically, the car fits into the same class (E/SA) as dad's Olds! 
While Rodney is just one example of the many young drivers who are getting their start in racing, it's important to the future of motorsports that if the sanctioning bodies want to increase participation of the next generation of racers, they must continue to create avenues for today's young people that are both enjoyable and affordable.