Once the basis for a lawsuit over poor reliability, GM's TH-200 automatic transmission has found new life in circle track and drag racing.
Motivated racers always look for an edge on the competition; it's just the nature of the beast. It may be just a few added horsepower gained from a header swap, or a shock change that results in slightly quicker elapsed times. Though many efforts ultimately fail, particularly on cars that have been thoroughly "flogged", some result in success. One trend that continues to remain popular in select drag and circle track racing classes is the use of the GM Turbo-Hydramatic 200 (TH-200) Metric automatic transmission.
Introduced by General Motors in 1976 as a lightweight alternative to the TH-350, the TH-200 was produced until 1987 with little fanfare. The unit had a unique, one-piece case, and was installed behind small displacement V-8's and V-6's in popular intermediate and full-size chassis including Malibus, Impalas, Cutlasses, and several others. It was the first GM automatic transmission to utilize metric fasteners throughout, hence the name "Metric", which was stamped on the oil pan. 1979 saw the launch of a lock-up torque converter version, tabbed the TH-200C and easily identified by the electrical TCC (torque converter clutch) connector located on the left hand side of the case.
In OEM form, the unit was notorious for poor shifting, lack of durability and premature failure. In fact, GM was forced to settle a costly lawsuit on behalf of new car buyers because of early failures. Countless units were repaired under warranty, or discarded outright and replaced with the more durable TH-350. The TH-200 and the term "high performance" did not co-exist until recently.
However, innovative racers began to look at the TH-200 because of its low internal rotating mass (30 lbs.) and low static weight (90 lbs.). Reducing rotating mass, whether it's pistons in the engine or internal transmission components, is sure to benefit any racing application. The TH-200 has rotating mass and static weight specifications similar to GM's aluminum Powerglide, but with the benefit of three speeds and a relatively low 2.75:1 first gear ratio. Significantly lighter than both the TH-400 or TH-350, the TH-200 can provide performance benefits to cars previously using either heavier 3-speed units or Powerglides. The increased performance is not without a trade-off, however, as the TH-200 is only recommended for performance-based racing classes where durability may be sacrificed.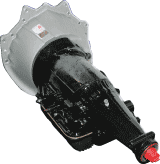 The TH-200 has become increasing popular in NHRA drag racing classes including Competition Eliminator, Super Stock, and Stock, primarily in small block cars that previously used Powerglides. A 2013 NHRA rule change that allows the use of a 3-speed automatic in Stock Eliminator cars that previously required a 2-speed has benefitted several GM applications. Racers have reported as much as a 0.15 reduction in elapsed times after switching from the Powerglide to the TH-200, with its narrower RPM band.
Circle track racers have benefitted as well, particularly in WISSOTA's Street Stock and Midwest Modified classes. Experienced builders indicate that the reduced rotating weight is what makes the TH-200 so attractive to circle track racers. An available high gear-only unit for circle track racing has only 19.5 lbs. of rotating mass, roughly 8 lbs. less than a Powerglide with 1.82 planetary gearing.
Transmission builders such as Turbo Action (Jacksonville, Fla.), among others, offer custom-built units to racers. The aftermarket has responded to the demand for high performance components to increase TH-200 performance and durability. Alto Products Corporation (Atmore, Ala.), available through TCI, offers "Red Eagle" racing clutches, Kolene steels, and extra-wide Carbonite-lined intermediate bands. JW Performance (Rockledge, Fla.) produces a heavy-duty, SFI-approved Ultra-Bell bellhousing. Turbo Action and ATI (Baltimore, Md.) have released deep, cast aluminum pans which help prevent case breakage.
The TH-200 shares the Powerglide and TH-350 bellhousing bolt pattern, 28″ overall length (TH-350 with 6″ tailhousing), and 27-spline output shaft, allowing for an easy swap using the existing driveshaft. Race-built units control oil pressure internally, eliminating the TV cable. Because the TH-200 uses unique input and stator shafts, the unit does require a matching converter. Retro-fit type transmissions are available from several builders, allowing use of existing Turbo-style torque converters, but the added cost is substantial.
The TH-200's increasing popularity, particularly when it was once part of a costly lawsuit, is ironic and reminds us of the Aluminum Powerglide, produced from 1962-72. The Powerglide was often referred to as a "slush box" by performance enthusiasts, yet the advent of light, big block-powered drag race cars put its popularity through the roof. While the TH-200 may not ever overtake the popularity of the drag race Powerglide or TH-350 occupying most Hobby/Street Stocks, it has found a comfortable niche in drag and circle track racing markets, and continues to be a popular solution.