Product returns are something that retailers usually dread, but they don't always have to be a bad thing.
Often referred to as the dreaded "R" word in the world of retail sales, product returns are a necessary aspect of business. However, the way they are handled can significantly impact a customer's impression of your company's level of customer service. According to recent national statistics, nearly 10% of all sales generated by "brick and mortar" type businesses ultimately result in product returns. Returns for web-based businesses are even higher, at a staggering 30%, and those that are part of the high-performance automotive industry are certainly not immune.
Product returns cost companies a significant amount money due to the time required to process and re-stock each item. However, if they are handled courteously and effectively, they can be used to help build trust, improve customer satisfaction, and increase future sales. While there may be just one or a variety of reasons that a customer returns a product, often their greatest concern is that they are taken care of quickly and in a professional manner, ultimately walking out the door with a refund in-hand, a credit to their account, or, ideally, a different product better suited to their needs.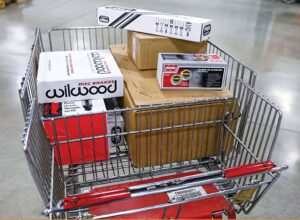 When a customer requests a return, the salesperson should begin by politely asking why they are returning the item. If the customer explains that the product doesn't fit properly or isn't what they expected, for example, the salesperson may ask if they are interested in exchanging it for an alternate item. If the customer doesn't express any interest in an exchange at this point and simply wants to return the item, it's important that the salesperson proceed and follow through with the return request. Regardless of the customer's demeanor, sales personnel should remain cordial and courteous at all times. Customers that are given the run-around or treated rudely could easily choose to take their business elsewhere.                                   
While most patrons understand that they must have their receipt and that the returned item must be unused, unaltered, and in re-sellable condition, it's still good practice for the business to post their return policy in plain view, close to the cash register or front sales counter. It may also be listed on the company's sales receipts, website, or in printed publications such as catalogs or sale flyers. In many states, it is also a legal requirement to post the company's return policy in writing. 
While return policies are put in place to protect the company from abuse or fraud, they should refrain from using complex, legal-style wording that can cloud and complicate the process. It should be clear, concise, and easily understood, and most important: customer friendly. A simple, straightforward policy shows the customer that the business is truly transparent and has the customer's best interests in mind.
Sales personnel should also be trained to inform customers of the company's return policy, which also helps build trust. When finalizing a sale, store personnel may add "you may return this product within 60 days as long as you have the receipt." This simple statement explains that the salesperson not only has confidence in the quality of their company's products, but also says that the business is willing to go the extra mile for the customer. Most clientele are also aware that certain types of products, or products sold on closeout or clearance, are often not returnable. A salesperson may simply say following the sale that "you do understand that since this product is on sale that it cannot be returned?" This may be relayed to the customer as a simple reminder of company policy.
It's equally important that each and every salesperson should be able to process returns. This prevents instances where a customer comes into your store requesting a return and the person appointed to handle returns is unavailable. The awkward, "can you check back a bit later today or perhaps come back tomorrow?" statement offers little help at this point and the customer has suddenly been left "high and dry".  This is sure to try your customer's patience and unfortunately, it may be their last visit to your store if you have this practice in place.
Of course, the main reason that business owners have return policies is to combat retail fraud. Costing retailers billions of dollars each year, the practice involves the return of product that has been used, stolen, or otherwise represents an attempt to defraud the store. While the majority of clientele are honest and hard-working, roughly 10% of all returns are found to be fraudulent. Most offenders simply try to return used or stolen merchandise, often without the necessary paperwork to cover their tracks. However, some perpetrators have become more sophisticated, taking a receipt that they often find in the trash and then using a high-quality scanner and printer to copy and alter receipts so that they can return the stolen goods. It's important that business owners remain vigilant in combating return fraud, without sacrificing customer service.
Although returns certainly don't directly add to the bottom line or help pay the bills, when they are handled in a courteous and professional manner, they can be yet another key to providing good customer service, which can result in far more sales down the line. In today's world of social media and shared experiences, having a clear return policy and maintaining great customer service gives customers the confidence to buy from you and spread the word.