Building a safe, reliable, and efficient fuel system is not only important for racing success, it's a critical safety factor.
The race car building process can be tedious and time-consuming, yet veteran car builders know that each task is equally as important as the next. For example, each system should include components that have been carefully chosen and properly installed per the manufacturer's guidelines.  Whether it's cooling, ignition, or electrical, for example, they all play a critical role. Regardless of the type of racing, sanction, or venue, choosing fuel system components is no different.
Fuel pumps, regulators, filters, and cells should be chosen carefully, ensuring that they are able to supply the engine with an ample amount of fuel, whether it's gasoline, alcohol, or E85. Keep in mind that when choosing alcohol or E85 that they require up to nearly twice the volume of gasoline to satisfy the needs of the engine, and that a higher volume fuel pump and larger diameter fuel lines may be required.
Fuel Pumps
Circle track-type race cars are fit with a wide variety of fuel pumps to suit the desired class or venue, including OEM-mounted mechanical, cam-, belt-, or gear-driven units. Stock-mount mechanical pumps, offered by manufacturers including CV Products, Carter, Edelbrock, Holley, and Pro/Cam, are widely used on many sportsman or factory stock type cars, while open wheel or late model cars typically rely on belt-, cam-, or gear-driven pumps. Care should be taken when switching fuels as not all fuel pumps or regulators, for example, are compatible with both gasoline and alcohol. Tandem gear-driven pumps, such as the units offered by KSE Racing Products, combine function as a power steering unit and fuel pump, and are popular on dirt modifieds or late models. Tandem pumps are lightweight, compact, and aren't negatively affected by the aspects of dirt track racing when compared to their belt-driven counterparts.
Most sportsman drag race cars use either a T-style or an inline electric fuel pump. Available from companies including Aeromotive, Magnafuel, Holley, and Quick Fuel Technology, an electric pump should be mounted as close as possible to the cell to maintain maximum efficiency. During pump installation, a fuel pump relay (such as Painless Performance PWI50102), should be installed to ensure an adequate supply of voltage, preventing "voltage drop", a condition that can occur when running long power leads.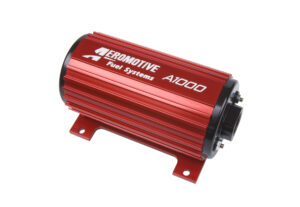 Regardless of pump choice, a large, free-flowing fuel filter should be installed between the cell and the pump to prevent any debris
from entering the pump or fuel system. The filter element should be cleaned or replaced periodically as dirt and contaminants are the most common cause of fuel system ailments. Many racers' nights have ended prematurely due to a stray piece of silicone, dirt, or debris that become lodged in the pressure regulator or needle and seat assembly.
Often required when employing a high-volume/high-pressure fuel pump, fuel pressure regulators are offered in traditional deadhead or bypass designs. The chosen regulator should follow the fuel pump manufacturer's recommendations while remaining compatible with the fuel and the induction system, whether it's carbureted or fuel injected. While deadhead regulators are easier to plumb, bypass regulators are sometimes preferred because they route excess fuel back to the cell, easing fuel pump load, increasing pump durability, and reducing fuel temperatures. Regulators are offered by Aeromotive, Holley, Quick Fuel Technology, Magnafuel and others.
Fuel Cells
If the application is a dedicated race car, a fuel cell is the only logical choice for on-board fuel storage, not only for safety reasons but also since it's engineered to both contain and control fuel that used in a racing environment. Drag race specific cells, offered in aluminum or plastic by manufacturers such as Jaz Products, RCI, and RJS, feature a sump located at the rear to allow the G-forces of straight-line acceleration help optimize the flow of fuel to the pump.
Due to the risk of crashes and on-track mishaps associated with circle track racing, most cars utilize a fuel cell consisting of a steel container fit with a rubber bladder that is designed to contain the fuel, even in the event of a crash, greatly reducing the risk of fire. If the container is damaged due to an on-track mishap, most often the bladder may be removed, inspected and if found to be intact, be re-installed into a new container.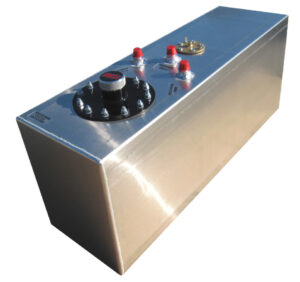 Regardless of the type of cell, most sanctioning bodies require a rollover or tip-over valve. These valves, like those available from Fuel Safe, Jaz Products, and RCI, use a check ball and seat to prevent fuel from exiting the cell in the event of a rollover. The valve is installed in the top of the cell and incorporated into the vent line, which is then routed to a bulkhead so that the cell vents outside of the car. If fuel is left in the cell between races, the vent should be covered with an AN cap, keeping the fuel contained and fresh. This is also important if the car is stored or transported in a race trailer where fuel vapors could become the source of a fire.
Fuel cells are often equipped with foam blocks to minimize sloshing. This can be critical late in a race when the cell may become low on fuel and excessive sloshing can cause the pickup to become uncovered, causing the pump to suck air, possibly interrupting the flow of fuel to the engine. Offered by companies including RJS Racing, the foam is fuel specific, available for gasoline or alcohol applications. The foam should be replaced periodically as it can break down over time and cause a myriad of problems, including fuel contamination and a clogged fuel filter. It should also be swapped out when changing brands of fuel, ensuring that the cell is free of any residual fuel.
Fuel Lines and Hoses
High-performance fuel hoses, available from manufacturer's including Aeroquip, Fragola, Earl's, and XRP, should be used to route fuel from the cell to the engine rather than common automotive fuel hose. Several variations of fuel hose are offered, including braided stainless steel, socketless, and nylon-sheathed. Traditional braided stainless steel hose is a bit heavier compared to other types of hose, but is more resistant to abrasion, while socketless or nylon-sheathed hoses are chosen due to their light weight.

Fuel line routing should be planned carefully as well. Every effort should be made to keep the fuel line clear of hot exhaust components, while keeping the line as straight as possible and free of sharp turns that could impede the flow.
When choosing fuel system components, manufacturers including Aeromotive and Magnafuel have helped simplify the process with system planners that can display complete breakdowns of fuel pumps, regulators, and filters, all engineered to work together, from the fuel cell to the carburetor/fuel injection system. The planners cover a wide variety of applications including carbureted, fuel-injected, nitrous-assisted, belt-driven, etc., and make it much easier to select the proper parts needed for a specific application.