Dry film lubricant coatings are effective way to increase horsepower and extend engine life.
The high costs associated with racing are always a concern for those involved in the sport. Racers are continually looking for a way to increase performance. Quicker lap or elapsed times are often the result of research, development, dyno time, and/or on-track testing, all of which involves substantial time and expense. There just aren't many performance parts or labor operations that offer increased performance or improved durability without adding a significant cost.
Many of the performance gains found in recent years have revolved around the reduction of internal engine friction. Improved cylinder wall finishes, tighter piston-to-bore clearances and narrower, low-tension piston rings have yielded reduced blow-by, less ring drag, improved combustion sealing and ultimately, more horsepower. Tighter engine bearing clearances combined with lower viscosity engine oils have proven to deliver increased engine efficiency, improved fuel mileage, and more horsepower as well. Yesterday's engines that typically ran on 10W-40 have been replaced by today's modern power plants that employ 5W-20. Although the gains in horsepower and fuel efficiency from these efforts may seem small or insignificant, they are important incremental gains when trying to "build a better mouse trap".
Another notable advancement that has proven to provide increased performance and durability through reduced internal friction is the use of dry film lubricant coatings, particularly those that are applied to the engine bearings and piston skirts. Standard in NASCAR Sprint Cup, World of Outlaws, NHRA professional drag racing, and other high-end racing classes for years, dry film lubricant-coated bearings are becoming increasingly popular with sportsman and hobby type racers.
"Dry film lubricant coating has proven to increase lubricity, lower coefficient of friction and provide intermittent dry start protection", according to Brad Riethmeyer of Calico Coatings. He states that the coating "has exceptional embedding qualities and increases the ability to resist damage from debris, while also remaining resistant to extreme temperatures and pressures".
Although coated bearings may cost a bit more initially compared to traditional components, the coatings have been proven to extend bearing life, often eliminating the need for replacement during engine freshen-ups. Engine builders and racers alike have also found that coated bearings deliver added protection in the event of an oil system failure, often minimalizing or even preventing damage to the crankshaft.
Calico Coatings, Clevite, and Federal-Mogul/Speed-Pro are among the manufacturers offering specially-coated rod and main bearings that are ready to install, right out of the box. The industrial-quality coating consists of molybdemum disulfide, adding a dark gray color to the bearings. Prior to coating, the surface is prepared appropriately for the specific bearing material make-up.
According to Riethmeyer, the coating is then applied using a spray process that adds an extremely thin, .00025"-.00030" layer to the surface of the bearing, resulting in negligible changes in oil clearance. The bearing parting lines are left intact during the coating process to prevent any negative affect upon bearing crush or fit. Calico's Riethmeyer says that after the coating is applied, it is subjected to a proprietary curing process where time and temperature are closely monitored.
King Racing recently introduced the pMaxKote main and rod bearings that include a nano-composite polymer coating that is designed to enhance wear resistance and protect the bearings in the event of metal-to-metal contact, yet without altering the bearing's original dimensions or affecting existing oil clearances. Regardless of manufacturer, coated main and rod bearings are offered for most popular engines in traditional standard and "under" sizes. They are also available for virtually any other application by special order.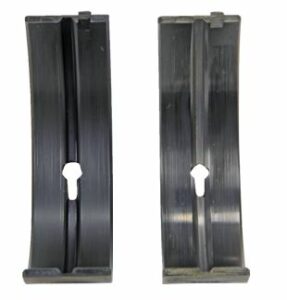 For the performance enthusiast desiring increased camshaft bearing protection, Dura-Bond Bearing offers a full line of specially-coated camshaft bearings. Ideal for engines employing higher valve lifts and valve spring loads, the bearings feature a fluoropolymer composite coating that has proven to deliver increased oil retention, reduced friction and improved durability.
Another area where significant coefficient of friction reduction may be accomplished is through the use of pistons that feature dry film lubricant coated skirts. A cost-effective option, coated skirts provide multiple benefits, including reduced friction and heat, which in turn, helps minimize cylinder wall and ring wear. The coating also allows tighter piston-to-bore clearances without scuffing and helps to reduce blow-by. 
Manufacturers including CP, Diamond, JE, Mahle, Federal-Mogul/Speed-Pro, and Wiseco offer pistons with coated skirts, right off-the-shelf or as an option when ordering custom units. Calico Coatings offers their CT-3 skirt coating services for a new or existing set of pistons, according to Riethmeyer. Dry film lubricant coating may also be used as a method to tighten piston-to-bore clearances that have become less than ideal, thereby extending usable piston life.
Although initially found in only high-end professional racing engines, dry film lubricant coatings are catching on with the sportsman racer and it's no wonder, particularly after one experiences their performance, durability, and cost effectiveness.