The electric performance aftermarket represents a promising future for racing and street performance enthusiasts alike. 
When attendees of the 2018 SEMA show glanced under the hood or in the trunk of Chevrolet's new concept race car, they may have initially thought they were looking at Marty McFly's DeLorean from the 1985 hit movie, "Back to the Future". In reality, it was the new 2019 e-COPO Concept Camaro. The one-of-a-kind EV, which became the talk of the performance industry upon its unveiling, is an offshoot of the traditional 2019 COPO Camaro, a purpose-built drag race car with a limited production run of just 69 cars built to commemorate the 50th anniversary of the 1969 COPO (Central Office Production Order) Camaro.
EV's are certainly not new to racing and their popularity seems to be gradually gaining momentum. Legendary drag racer Don Garlits, still active at age 86, has been deeply involved in the development of electric-powered dragsters, and currently holds the national record for the quickest ¼-mile elapsed time: 7.25 at 185.6 MPH. Garlits has had on-going meetings with Tesla owner Elon Musk in a cooperative effort to share the technology required for such projects. A variety of other racing circles are seeing EV's come onto the scene as well. The FIA added Formula E in 2014, a class designed strictly for electric-powered open-wheel race cars that has seen steady growth since its introduction. BMW, Mercedes-Benz, Nissan, and Porsche have all jumped on board recently as supporting manufacturers. 
Chevrolet didn't jump into the e-COPO project alone as they enlisted the help of the North Bend, Washington-based sportsman drag racing team, Hancock and Lane, along with fellow racer Patrick McCue. With Jeff and Cody Lane behind the wheel, the Hancock and Lane team have won multiple NHRA championships in both Competition Eliminator and Super Stock. McCue, builder and driver of the record-setting "Shock and Awe" 2002 Pontiac Firebird electric-powered drag car, has run as quick as 8.32 at 166 MPH to date, proof that there are certainly quick elapsed times to be had from EV's.
While the traditional 2019 COPO is offered with choice of 302, 350, or 427-cubic-inch, LS-based, traditional internal combustion engines, the e-COPO substitutes two Borg-Warner HVH250-150 electric motors, joined to form a single assembly. Combined, the motors deliver 700 horsepower and 600 ft./lbs. of torque, capable of producing 9-second ¼-mile elapsed times. Identical to those used in the Mercedes-Benz Electric Truck and FUSO eCanter, the electric motors are configured to drop right in the place of an existing GM LS series engine, as they incorporate matching bellhousing and crank flanges, allowing a direct bolt-on to the GM TH-400 three-speed transmission, the same automatic found in a traditional COPO.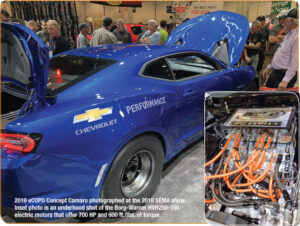 The electric motors are powered by an 800-volt battery pack split into four, 200-volt units that are wired in series. While the battery packs tip the scales at 175 lbs. each, they are strategically placed for best weight distribution. Two are installed in the rear seat area, one over the rear axle and one in the spare tire well, resulting in an exceptional, 44% front/56% rear weight bias, ideal for the maximum weight transfer required by a drag car. The batteries are sealed off from the interior and the driveshaft is enclosed in an integrated tunnel, ensuring maximum compliance with safety standards. Although the special concept car features a lower profile hood with lightning and "800 volts" decals affixed, it retains the same Ford 9" rear axle, 9" wide x 30" tall rear drag slicks, full roll cage, performance brakes, and suspension components as a standard 2019 COPO Camaro.
Chevrolet has also been working diligently to help provide the batteries with the quicker charging times necessary to compete in the round-robin format common to drag racing. The car maker also feels that much of the technology involved in the project could cross over to daily-driven EV's designed for today's consumer. They are additionally exploring the possibility of supplying e-powered performance crate motors in the not-so-distant future, as the design allows direct replacement of an existing GM LS engine, whether it's installed into a race car or street-worthy hot rod. GM's introduction of more mainstream electric conversion kits for existing gasoline-powered vehicles, scheduled for launch in late 2021, sets the stage for a growing future for the electric performance aftermarket.
Although many are predicting doom and gloom for the speed industry, and the impending death of the internal combustion engine, the e-COPO concept car is evidence that the industry can and will evolve. Regardless of what's under the hood, whether it's a battery-powered electric motor or a gasoline-fed internal combustion engine, plenty of opportunities will still exist for those that make their living in the performance automotive industry. History has proven that where there's a will, there's a way – enthusiasts will employ the necessary means to modify their cars to boost performance and match current trends or their own personal taste.     
While a Tesla may occasionally show at the local track, the reality of e-powered race cars hitting the drag strip in droves is still several years away. However, it wouldn't be surprising at all to see the new e-COPO make some exhibition runs at an upcoming national event near you, particularly since Chevrolet is a major NHRA sponsor. And perhaps, just maybe, there might be a few more surprises making their way to the starting line.